A great help for people who find it difficult to sit down and stand up. Liftolet fits onto most standard toilets without disadvantage for other users.
The WC seat lift can be subsequently installed. A base plate (option) can be fitted for places with floor fixing problems or for mobile use.
The lifting height is 40 cm higher from the normal seat height. The support arms can be folded up and equipped with the lifting operating function.
No disadvantage for other users

Fits all toilet bowls (hanging or standing)

Also suitable for subsequent installation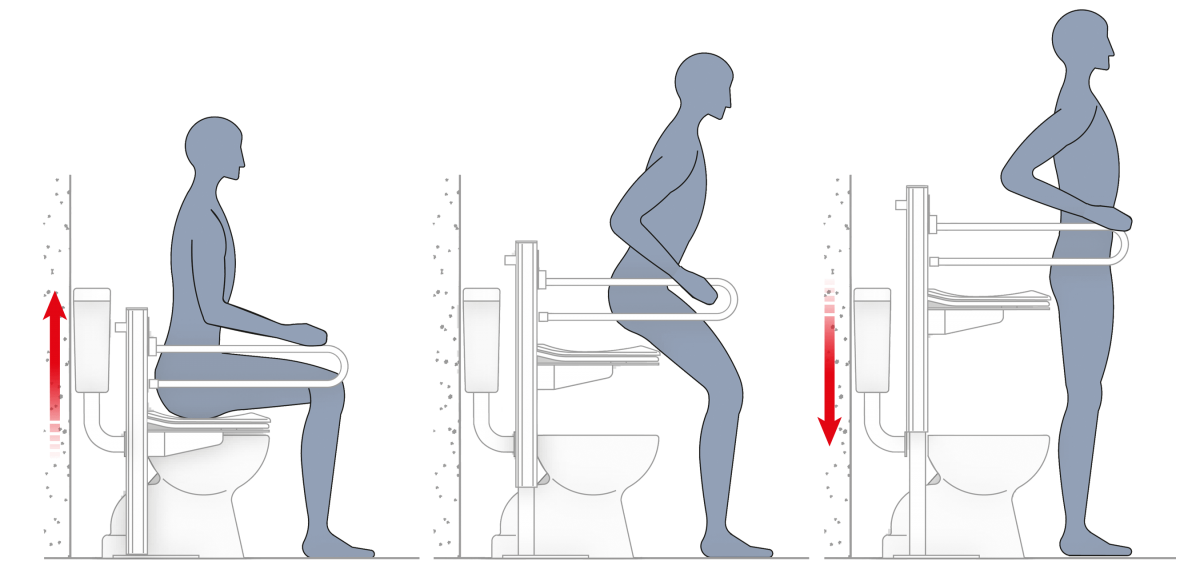 Sitting down and standing up made easier, also for heavier persons.
Two buttons are situated in the support arms, for raising and lowering the toilet seat together with the support arms.
Sit down:
To sit down, firstly raise the toilet seat until one can comfortably sit down from a standing position onto the edge of the toilet seat. At the touch of a button, the seat and armrests are then simultaneously lowered to the standard toilet seat height. Thereby the user is lowered to his/hers normal seating position.
Stand up:
It is just as comfortable to stand up as it is to sit down. At the touch of a button, the seat and support arms are lifted upwards until the user is straightened up again.
Intimate care:
Liftolet is optionally available with an opening at the front of the seat, which allows intimate care in a practical manner. For this the seat should be slightly raised.
Cleaning:
The electrical equipment is spray water protected.
Upward folding support arms, with operation buttons on both sides
Shapely, anatomically shaped seat with cover
Floor fixing
Base plate for mobile use and even places with floor fixing problems
Support arms Pressalit®
Toilet paper holder for support arms Pressalit®
Liftolet
Standard
Narrow
Article number
LT-1000
LT-1000-S
Lifting height support plate
cm
40.0
40.0
Lifting speed
mm/s
ca. 10
ca. 10
Electrical connection
V
230
230
Electric drive
V
24
24
Protection class (splash water protection)
IPX4
IPX4
Width between the support arms
cm
54.0
54.0
Overall width
cm
80.0
68.5
Seat height
*individually
*individually
Product weight
kg
75.0
55.0
Maximum capacity
kg
150.0
150.0
*Depending on the mounted height of the toilet bowl.
Vita-Lift®atoform

2021-05-12T11:46:27+02:00

Vita-Lift®210atoform

2021-05-12T11:58:37+02:00

Serie Mover

atoform

2021-06-16T10:15:08+02:00

Toilet seat lift Liftolet

atoform

2020-12-08T12:32:57+01:00

Toilet seat lift Liftolet-Tilty

atoform

2021-07-13T13:38:59+02:00

Toilet and shower chair TS-Schale

atoform

2020-12-08T12:36:33+01:00

Mobile changing bench MobiCare

atoform

2021-02-11T09:41:50+01:00